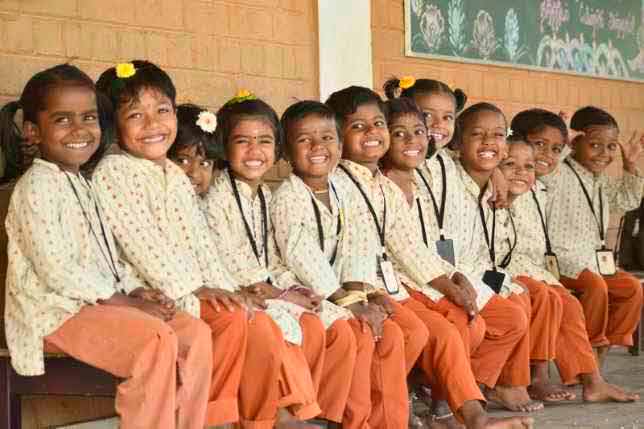 School Buzz
Learning Integers
Who wants to sit in a room, learning abstract concepts when we can play out in the open with our friends? Elders, in their desire to ensure that kids spend time on school work, create a fear about subjects like Maths. Kids, already conditioned into believing that it is difficult to understand Math concepts, are not able to absorb what is taught in classrooms.

Recognizing and understanding this, Isha Vidhya teachers continuously provide learning and practicing opportunities beyond the classrooms. Verandah activities and now corridor activities have proven to be successful in breaking through the wall of fear facing students and getting them to enjoy learning.

The mathematical concept of 'Integers' appears to be a challenge to many students. To enhance learning, Math teachers at Vanavasi School created an activity named Integer scale for students of classes 6th to 8th. Paper cards showing zero, positive and negative numbers were pasted on the corridor floor and students were asked to attempt questions based on concepts like

1) Identification of numbers representing integers 2) Comparison of the integers 3) Addition and subtraction of the integers 4) Finding predecessor, successor and numbers between the integers An activity which became almost a game was far more successful in making the students comfortable with the various aspect of integers.
International Women's Day
National Science Day
When the world is celebrating International Women's Day, how can Isha Vidhya lag behind? The Day was celebrated at Cuddalore school by sensitizing the students about women's issues and getting them to think about them.

The program started with Gayathri (8th Std) sharing the objective of celebrating Women's Day, and Nithish (7th Std) who spoke about women's empowerment.

A debate was conducted where one team spoke up for the freedom achieved by women in both personal and professional space, while the other team hotly contested it. The final verdict, after hearing all the arguments, was that though condition of women is improving, we have a long way to go.

The day ended with students becoming more aware that women, as men and children, should also be always respected and not discriminated against.
The Raman Effect was discovered 85 years ago by Sir C. V. Raman. Tuticorin School paid tribute to the renowned Physicist on this occasion.

Mr. Amernath, the Science teacher at Tuticorin School, informed students about 'National Science Day' which is celebrated on 28th February every year to commemorate the discovery of the Raman Effect. A fun element was introduced when all future scientists of Tuticorin school were asked to wear C V Raman mask on this occasion!

The program started with the School Principal introducing Sir C. V. Raman and his achievements. Science teachers Ms. Jessi and Ms. Nagajothi conducted a quiz for two categories - 3rd to 5th Std students and 6th to 9th Std students. Mariselvam came 1st and Kottala Muthu came 2nd in the Junior category and Priyanga won the 1st prize in the Senior category.
Events And Other News
Bangalore TCS 10K Run

Bangalore, the city of lakes and beautiful weather, will be hosting 'TCS 10K Run' on 15th May 2016. Isha Vidhya supporters are enthusiastically preparing for it and also raising funds. Read more
Empower With Life Skills

Can you create presentations which will teach students about banking, saving options, investment options, schemes for small entrepreneurs etc? We would like to hear from you. Read more
Sponsorship for Old and New Students

The new academic term is about to start. Many old and new students will be looking for sponsors for their education, transport and mid-day meal. Help us provide sponsorship to all deserving students. Read more
Bangalore TCS 10K Run
Raising awareness and funds for Isha Vidhya was never so much fun. Practicing together, learning to run scientifically, sharing tips and tricks to improve your timing – all this and more takes place as you join the committed group of Isha Vidhya runners.

Process of registering: 1) Register at TCS 10K Run page 2) Enter registration details in the google doc to get free Isha Vidhya T-shirt. If you would like to create a practice group in your locality or learn from others on methods to raise funds, contact us at blore.run@ishavidhya.org or +91 80956-33111. Run to make a life of a child, run to make this world a better place for the next generation.
Empower With Life Skills
Besides academics we would like our students to learn about essential life skills like banking, basic saving options, investment options, government schemes for small entrepreneurs etc., so that even as students, they understand and have tools to plan a better life.

Most youngsters don't have practical knowledge of handling money or starting a small business. Several government schemes are available that they can make use of in their family. Parents of many students are small time entrepreneurs and they can benefit from this knowledge. All that we require to do is make the students aware of opportunities.

We invite volunteers to create simple presentations which the student can go through at their own pace and gain practical knowledge of such subjects. If you would like to take a shot, please drop a mail to asmita.sinha@ishavidhya.org. We are keen to that our schools bring up well-equipped students.

We have several other volunteering opportunities. To know about them, please register* as a Friend of Isha Vidhya.

*The registration process will take less than a minute.
Sponsorship for Old and New Students
The new academic year is about to start and we need to ensure sponsorship for students who cannot afford to pay for education. We hope you will renew sponsorships so that the students who were benefiting from your donation, continue on their path of education.

You must be receiving details of student(s) whose education you must have sponsored. If you have any questions or suggestions, you can contact us at sudha.ram@ishavidhya.org.

You can donate Online here. For inquiries or more information about donations, email at donations@ishavidhya.org.

For offline donations, please send your cheque to the address given below. The cheques are to be written in favour of the organisation printed in bold text. Tax benefits available.


India
USA & Canada
UK
Isha Education
14, CA Thevar Layout,
Kannaperan Mill Road,
Udayampalayam,
Coimbatore, 641 028, INDIA
donations@ishavidhya.org
Ph: +91 94425-44458
Isha Foundation Inc.
Attn: Isha Vidhya
951 Isha Lane,
McMinnville,
TN 37110, USA
Sathish.Raj@ishavidhya.org
Ph: +1 813-434-3515
Isha Institute of Inner Sciences
Attn: Isha Vidhya
10 Thorpland Avenue
Ickenham, Uxbridge
UB 10 8TW, United Kingdom
uk@ishavidhya.org
Ph: +44 7837060625
© Isha Vidhya 2016
C.A. Theyvar Layout,
Kannaperan Mills Road, Udayampalayam,
Coimbatore – 641 028, TN, India