He Runs to Educate Kids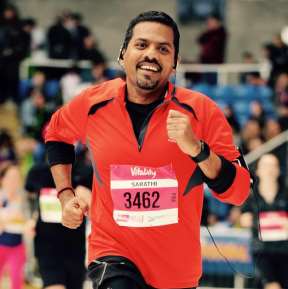 Dedication and commitment of all the staff members, volunteers and supporters is the key to success of Isha Vidhya. We cannot express enough gratitude to volunteers and supporters who inspire us daily to give our best.

Sarathi Balasubramanian has been running in Reading Half Marathon for last 5 years and raising funds for Isha Vidhya. He shares, "I do not follow strict training regime on weekly basis, my principal aim is to complete the run without any injury.

I got inspired to start running after watching a video by Sadhguru where he talks about how irresponsible we have been in leaving the planet in a bad state for the next generation and then goes on to describe Isha's Outreach projects.

I began the run at Reading Half Marathon with a hope that the money that I am raising would help the disadvantaged children by providing a better future. With tremendous support from my family, friends and last but not the least, my Isha colleagues, I managed to raise £1500 for Isha Vidhya Schools where I hope to volunteer one day!"

Note: Many supporters run in city marathons, raising funds to educate underprivileged children. If you wish to do the same, please contact us at prabhu.loganathan@ishavidhya.org.


Building Awareness About Rain Water Harvesting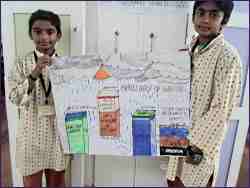 Water scarcity is predicted to be one of the top 3 problems to beset the world if drastic steps are not taken now to increase ground water, reduce wastage and eliminate contamination of water bodies. Though Indian State governments are implementing schemes to encourage rain water harvesting, it is crucial for schools to play an active role in building awareness.

Our Coimbatore School had installed rain water harvesting system 2 years ago but each year school Principal makes it a point to take senior students around the school to explain the importance of rain water harvesting and how the system works. Students are then roped in to create banners about the problem and the solution, which they use to build awareness among surrounding villages and also in their own neighbourhood.

With students as evangelists we hope to reverse the problem.
Graduation Day



Aragonda School celebrated KG Graduation Day to celebrate Upper KG students' successful completition of kindergarten and joining primary school.

Students from class 1 – 4th regaled parents of KG students with a colourful cultural program. It was such a wonderful sight to see parents bursting with pride as their child received his/her first certificate. Hopes and aspirations of parents are tied to these kids, so this occasion is an emotional moment for most.

Recruiting Teachers



At Isha Vidhya we recruit teachers and other support staff from local community to limit attrition and also inspire people to help build local community rather than migrating to cities.

Cuddalore School participated in a campus interview program conducted at National college, Neyveli, to recruit teachers for the school. Through this placement program we recruited 5 skilled, trained teachers. We are excited about our journey together..
Keerthana Wins Monalisa Award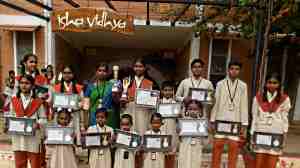 Phegivef conducted International level drawing competition earlier this year. 52 students from Coimbatore school enthusiastically participated in the competition and brought laurels to the school.

Budding artist A. Keerthana (11th Std) won the prestigious Monalisa Award.

Five other students won gold medals while 7 won silver medal. The organizers also gave a special award, Best supporting school, to the school.


© Isha Vidhya 2016
14, C.A. Thevyar Layout,
Kannapiran Mills Road, Udayampalayam,
Coimbatore – 641 028, TN, India