Pongal Celebrations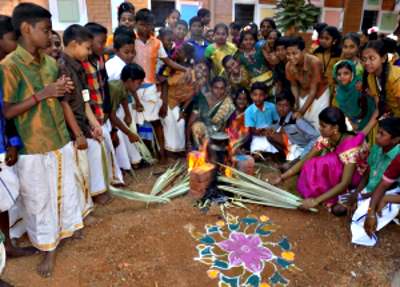 What a start to the third semester! Pongal, the most important festival in Tamil Nadu, is celebrated in January. Our schools were buzzing with excitement even before the festival rolled in.

We celebrated Pongal in all its traditional glory. Each of our schools decorated the premise with colourful rangoli. Sweet pongal, made from rice and milk, was cooked in earthenware pot on open fire. Teachers and students sang songs and danced. Students, including those who were unable to celebrate the festival at home, participated enthusiastically in competitions and games.

Livestock is an important part of life in rural India - they are considered family. During Pongal they are venerated to express gratitude for their contribution to our wellbeing. Some of our schools even arranged for bullock cart ride at school, which the students loved.

Festivals help us stay connected with our root as well as bind the community together. Stories around the festivals entertain and educate. Many volunteers joined us for Pongal and we hope you too can be part of our next celebration.
Running To Make Lives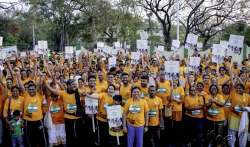 We were looking forward to The Wipro Chennai Marathon 2016 where we were the official charity partner. Unfortunately it had to be postponed and was finally held on 8th Jan 2017. We received an overwhelming support from our volunteers to ultimately have an incredible 2028 participants running for us!

Weekend practice runs helped the new runners learn from seasoned runners. Practice sessions were also a great bonding time and helped new volunteers learn about Isha Vidhya. Many broke through personal hesitation to raise funds for us. We are indebted to each of you for your contributions.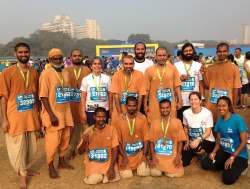 Subsequent weekend we were in Mumbai for Standard Chartered Mumbai Marathon. This marathon was special as 11 monks from Isha Foundation ran half marathon along with 285 dream runners and 60 half/ full marathoners. 135 runners from 6 Corporate teams also ran for us.

The simplicity and intensity of our monks touched everyone. While Mumbai volunteers showered them with affection, media chased them. We look forward to monks running for us again next year.
Lesson in Weaving



The lesson Weaving came alive for 7th Std students of Vanavasi School after a visit to weavers colony. They travelled through an intricate world of weaving cloth, colouring yarns, decoration process, border work, finishing and the polishing sarees.

Weavers were very patient with our students. They explained about varieties of threads used in weaving and how it affected the final outcome. India has traditionally been using gold and silver threads to embellish woven cloth. Students were enchanted to see gold and silver threads being used in saree weaving.

After the trip students developed immense respect for the process of weaving, handloom weavers and the cloth they used to take for granted.

Winning the Kho-Kho Title



Government of India and State governments are organizing many events to promote sports among youth. Last month Block level sports competition was conducted by Ministry of Youth Affairs & Sports, Govt.of India at Mecheri.

Kho-Kho, Volley ball, Football and Athletics were some of the events in the competition.

Dharmapuri students from classes 5-8 participated in Kho-Kho competition. It was an open competition (i.e anyone below 28 years could participate). Out of the 4 teams which participated in the competition, our students won the first place.

Congratulations! Each win inspires many other kids and parents to take sports seriously.
Workshop for Senior Secondary Teachers
We have started senior secondary classes in 7 of our schools from this academic year! Now our 10th Std students won't have to change school after clearing 10th Board exams and deserving students can continue to avail scholarship.

Tremendous responsibility has been placed on the shoulders of our senior teachers. We have been organizing workshops to equip them for the new responsibility.

A four day workshop for Biology and Computer Science teachers was recently held. Teachers were trained on how to cover the syllabus, tips on how to help slow bloomers as well as high achievers were shared, question papers and paper correction methods were discussed.

Tips on how to prepare themselves and sensitization towards difference in methods of handling lower age groups viz-a-viz senior students were also part of the workshop.

Participating teachers openly shared doubts, which were collectively cleared by the trainers and other teachers. More than the subject material, teachers appreciated suggestions on how to teach and what to teach.
© Isha Vidhya 2016
C.A. Theyvar Layout,
Kannaperan Mills Road, Udayampalayam,
Coimbatore – 641 028, TN, India