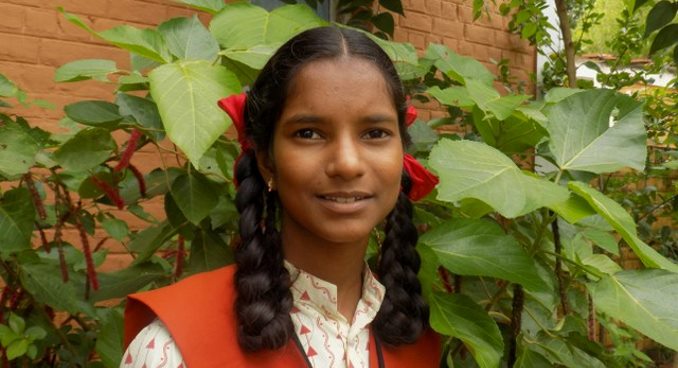 The Butterfly Emerges

Nivetha, a student at Isha Vidhya Villupuram School, is no different from girls of her age - a little shy, dreaming big dreams and determined to achieve them by working hard. She made a place in our heart soon after joining Isha Vidhya in 2011 as a 6th Std student.

Daughter of a daily wage earner, Nivetha's life has not been easy. She has to manage her home along with the studies as she had lost her mom at a young age. Though she had been attending a school, when evaluated during the entrance exams at Isha Vidhya, she could not speak or write a single sentence in English.

Isha Vidhya's teaching methodology gave her tools to remedy this. She dived wholeheartedly into learning and used opportunities like Magic English classes, Computer Aided Learning classes and numerous other classroom activities. Today she is a confident student, dreaming of becoming a cardiologist.

Her achievements are not limited to academics. She excels in sports, particularly in athletics and Throwball. She has won several awards in Zonal level competitions. She is also a wonderful artist, drawing and painting her way to prizes.

She cannot stop expressing gratitude to her sponsor. The opportunities that Isha Vidhya scholarship has provided her goes beyond the school education. We have a bubbling, enthusiastic young woman who believes in kindness of humankind and plans to continue the cycle giving.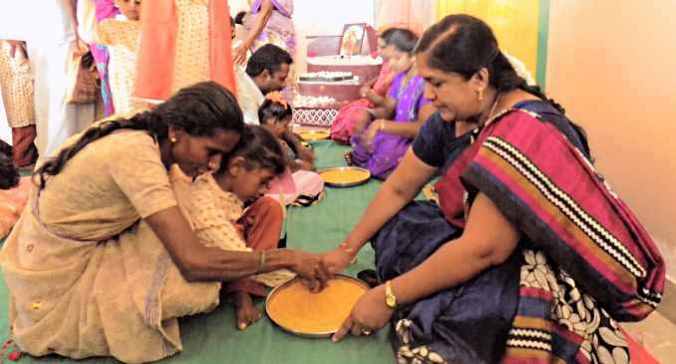 First Day of School

The start of kindergarten session at beginning of an academic year is always exciting and demanding. Toddlers and their parents are stepping into a new world. For most kids this is the first time they are stepping out of the shadow of their parents and for parents, they are handing over their precious bundle to strangers, trusting them to take as good a care they do.

On the first day of school young kids are guided to write their first letter in atchadhai, a placeful of rice and turmeric powder, according to Tamil tradition atcharam. Thus a child is initiated into formal education system.

Toys, chocolates, balloons await the students to help allay their anxiety. Rooms are decorated with bright cartoon characters which intrigue and distract them. Parents are invited to visit classrooms and browse through the learning material kits.

We involve 8th and 9th Std students on the first day of kindergarten school, to support the teachers and the parents. Their calm presence reassures the parents and the kids form instant bond with their seniors. By end of the day, it does not seem as if kids were attending school for the first time.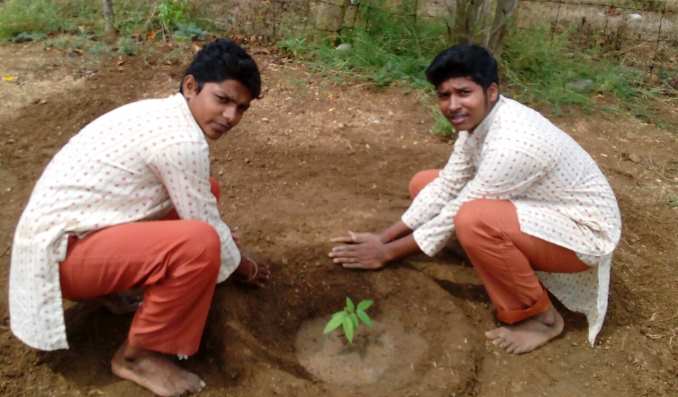 Parenting Trees

Erode School has started a beautiful tradition from this academic year. The senior-most class students were urged to plant saplings of trees in the school ground. The trees would of symbol of their love and affection, visible even after they pass out.

Students planted saplings around the athletic track after preparing the area for planting. Each student adopted a tree, promising to water them reguslarly.

This tradition will not only green the campus but also deepen the relationship between students and nature. Cementing of this relationship will ensure lifelong caring and protection of trees. This is one of the most important aspect of Isha Vidhya's holistic education.
Other News
Hyderabad Marathon

Isha Vidhya supporters are enthusiastically preparing for Hyderabad Marathon which will take place on 28th August 2016. We look forward to seeing you there. Read more
© Isha Vidhya 2016
C.A. Theyvar Layout,
Kannaperan Mills Road, Udayampalayam,
Coimbatore – 641 028, TN, India